#67707 youtube 00:03:56
Where is the X<br /><br />A film contained in the show Garbage Garden<br />created and played by Greg Chombard and Simone Cinelli<br />with the direction of Christophe Piret<br /><br />A film of .....
#14014 vimeo 00:06:05
Jireh Lim original "Magkabilang Mundo" (c) 2012 FACEBOOK: http://www.facebook.com/jirehlim214 TWITTER: https://twitter.com/#!/jirehlim TUMBLR: http://jirehli...
#13878 youtube 00:04:08
Jireh Lim official new single "Pagsuko". (c) 2012 FACEBOOK: http://www.facebook.com/jirehlim214 TWITTER: https://twitter.com/#!/jirehlim YOUTUBE:http://www.y...
#11930 youtube 00:05:12
Vivez le vol du présentateur Rafale, le capitaine Planche, au Salon du Bourget.
#11690 vimeo 00:09:46
MANI NASRY <br /><br />WWW.IMDB.ME/MANINASRY<br /><br /><br /><br /><br /><br /><br /><br />Top 25 Power Casting Directors in Film and TV<br />The following is a list of the top 25 Power Casting .....
#9834 vimeo 00:02:53
Music video for "Babe&#39;s Lair" by Walt & Vervain.<br />http://walt-vervain.bandcamp.com<br /><br />For a man who&#39;s wasting his time in the tired souls&#39; cave...<br /><br />A tribute to .....
#9833 vimeo 00:03:46
Stand up surf or boogie board 365 days a year on the FlowRider®! Experience the thrill of the Master Blaster. Brave the Sahara Sidewinders and the Screaming Hyena. Enjoy the Victoria Falls family.....
#7013 vimeo 00:00:30
Ce fut le grand succès de la 2ème ZAT - Zone Artistique Temporaire, en avril 2011 à Montpellier, et sans doute un des plus beaux spectacles de l'année : Fugue / Trampoline, de Yoann Bourgeois.....
#6237 vimeo 00:04:30
L&#39;Associació Animalista Libera! i la Fundació Franz Weber han revelat les imatges de les instal·lacions interiors situades al subsòl del zoo de Barcelona davant els mitjans de comunicació.<br.....
#6236 vimeo 00:07:00
Envoûté par Sara Forestier et une étrange pierre précieuse qu'elle lui offre, Julien Ribot joue le chef d'orchestre d'un groupe de musiciens à l'air hypnotique et dirige la chorég.....
#6235 vimeo 00:03:45
Our recent short film that's a story about the fragility of memory, of a kid becoming a hero and of evil seen just out of the corner of your eye. It's about looking back at your childhood and kno.....
#6180 vimeo 00:02:10
Finally. After a month long list of delays and technical hiccups, it's here. I've worked on this thing every single day for the last month till 5am in the morning. I have rarely gotten a .....
#6179 vimeo 01:15:46
Our Animated Halloween Haunted Magic Mirror appears quite ordinary at first glance. Stop to touch up your makeup, however, and the ghastly reaper that lives inside this mirror comes to life—movin.....
#6178 vimeo 00:00:27
Nouvelle vidéo de Zahia sur l&#39;air d&#39;Alice au pays des merveilles.<br /><br />http://www.zahia.com
#6177 vimeo 00:01:13
Some madness from our homie Arik/Erik/Airik/Ehric Elstran at 3rd Lair Skatepark in Minneapolis, Minnesota.<br /><br />Filmed by Deljon Willis<br />Edited by Erik Elstran<br /><br />MUSIC: <br />.....
#6176 vimeo 00:02:55
Cardi-Body & Cardi-Curara...<br /><br />Depuis quelques mois, les créations automobiles européennes (et encore moins américaines) ne me passionnent plus, tant elles me semblent issues d&#39;une s.....
#6175 vimeo 00:06:16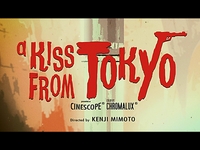 Official selection for best advertising at Annecy Festival 2010!!!<br /><br />"A Kiss From Tokyo", Theatrical Trailer (1964) - Yuki 7 dashes around the world in hot pursuit of the tantalizingly t.....
#6174 vimeo 00:01:46